The Smoke Eater For April 9, 2020
Wasting food, oil men, and forever homes.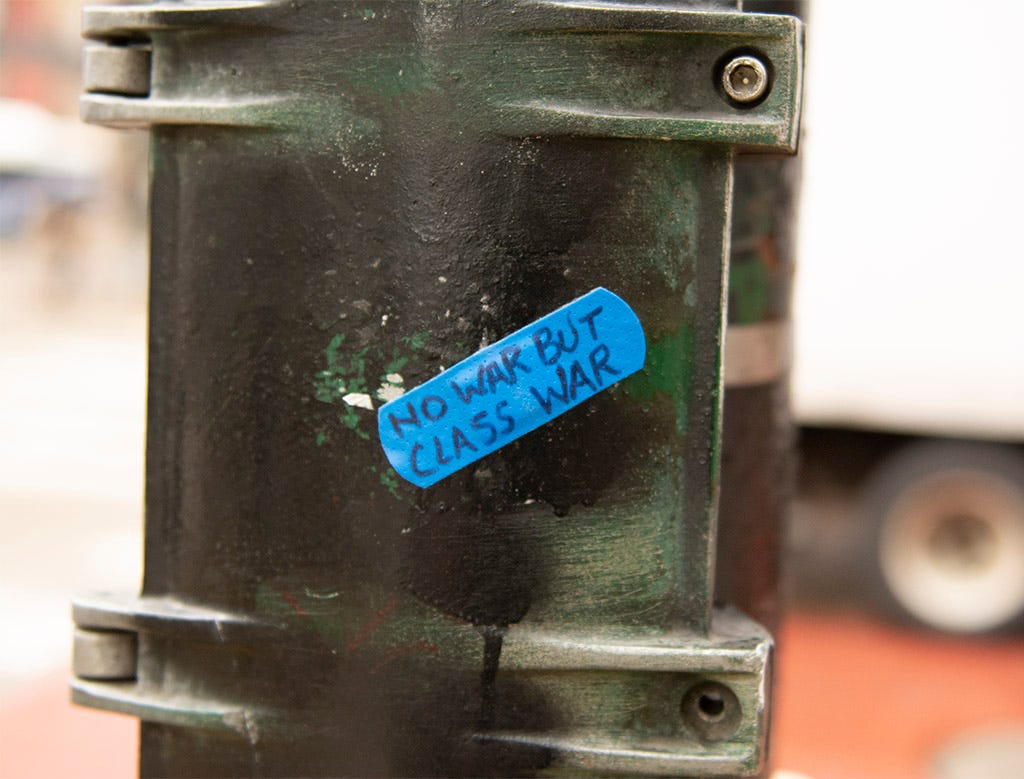 Good day, this is The Smoke Eater for Thursday, April 9, 2020, and here's mud in your big red eye.
---
Quick Hit
* Why farmers are throwing out food * Transnational kleptocrats agree to sheathe their baby dicks (for now) * The new dystopian sci-fi around the corner *
NOTE: Like many people, I've been battling cabin fever. That's translated into a lot of frantic text messages and phone calls. Remember, being excellent to each other means caring about each other. As usual, The Smoker Eater is mobile friendly, ad-free and supported by super awesome readers. If you want to be super awesome, tip me on Ko-Fi, or subscribe to my Patreon!
---
Do You Have A CDL?
If you've got the time (and you probably do), Freakanomics has an episode about the food supply chain, and why we've seen such rapidly fluctuating prices at super markets. There's an ton of of logistical hurdles driving prices, leaving shelves empty, and perfectly edible food in the trash. Jesse Newman and Jacob Bunge write in the The Wall Street Journal that farmers have seen a dramatic shift in the fundamental behavior of society that directly affects perishable foods, like dairy and produce. This has an immediate effect on transportation, like sending food to stores instead warehouses, as demand from restaurants and schools drops while the demand from grocery stores skyrockets.
Additionally, Isis Almeida writes in Bloomberg that farmers all over the world are panic-buying grain and finding supply shortages. As Almeida notes, America has 95 million cows, 77 million pigs, and 9 billion chickens that all need to eat an ingredient that's byproduct of ethanol production called dried distillers grains (DDGs). Because demand for gasoline is down, ethanol production is down, and thus the DDGs are low.
A Pissing Contest
Late this morning Saudi Arabia and Russia agreed to a ceasefire in their oil price war and cut oil production. An oil man dug up by the Wall Street Journal says the agreement is a big deal if, "China's recovering and Europe then recovers and the U.S. starts to come out of [the coronavirus lockdown], then oil demand gets really tight really quickly."
Let's rewind: Just before the coronavirus popped the Saudi's began flooding oil markets with cheap crude. This was widely seen as a power move by Saudi Crown Prince Mohammad Bin Salman aimed at Russian President Vladimir Putin. The Russians were certainly feeling squeezed, but since both governments maintain control over their own oil markets, it's unlikely anybody but poorer OPEC nations -- already hammered by the coronavirus, religious militants, government corruption, and political unrest -- saw oil incomes fall as much as 85 percent, the Wall Street Journal reported last month.
On March 23, Politico reported oil lobbyists were trying to give Trump a crash course in how crude oil affects the U.S. economy without much luck. According to the story, he eventually realized that coronavirus lockdowns and an oil price war were two very bad things happening simultaneously. The Trump administration then began begging OPEC to hold an emergency meeting to end the messy pissing contest.

During a phone call with Putin on March 30, Trump seemed to reach a consensus with Putin about the oil price war. A few days latter, Russian oil giant, Rosneft, pulled out of Venezuela and sold the operation to the Russian government (likely in exchange for possible sanctions relief). Interestingly enough, the administration had been getting hammered by the human rights and United Nations special interest groups it ignores for maintaining the crippling sanctions it imposed in late 2019. The sanctions were slapped following a failed coup to topple Venezuela's dictator, Nicolas Maduro.

FUN FACT: On March 26, the administration declared Maduro and several other government officials narco terrorists, but that's all a different story.
Some members of Congress are very concerned about the oil-price war between the Saudis and Russians. Several Republican senators have been hounding the administration to ask the Saudi's to leave OPEC -- a group they founded and lead -- to form a "free market energy powerhouse" with the U.S. to counter Russia. They've even threatened "tariffs and other trade restrictions to investigations, safeguard actions, sanctions, and much else, the American people are not without recourse." Additionally, almost 50 House Republicans, (half of which are in House Freedom Caucus) sent a letter to Saudi Crown Prince Mohammad Bin Salman complaining about the price war with Putin, begging MBS to, "reverse this manufactured energy crisis," or else.
BONUS: About that letter the House Republicans sent to MBS: It's a trivial matter, and most people wouldn't care, but when you CC the rest of the office...

Lawmakers from oil producing states want Uncle Same to buy $3 billion of U.S. oil for storage in the Strategic Petroleum Reserve, according to a bill introduced on Tuesday by North Dakota Sen. John Hoeven, and co-sponsored by Rep. Michael Burgess, and freshman Democratic Rep. Lizzie Fletcher. Burgess tells Roll Call the bill would give oil producers, "time to adjust to the changing global market," adding that Congress should include the bill in any additional stimulus bill (or bailout, or 2020 bribe). Right now it seems unlikely the bill is taken up, but it does add an additional layer of complexity to the administration's on/off bromance with MBS.
Looming in front of all of this is tomorrow's G-20 meeting. Jason Bordoff writes in Foreign Policy that the posturing from US politicians, Trump's schizophrenic celebration and denunciation of low oil prices, and the post-piss hand shake between the Russians and Saudis are all part of a fugazi that some on Wall Street hope will herald free market orgy. As Bordoff writes, any deal is likely to be short-lived since U.S. oil producers and the Saudi's can (and will) do whatever they want, while the Trump administration is busy farting around with fuel efficiency standards as the rest of the world goes green.
In Case Your Missed It
A paid sick leave provision in one of those stimulus bills (or bail outs, or bribes) passed to offset economic losses due to the coronavirus left out state and local governments, Dave Lerman writes for Roll Call. Without access to tax revenue, state and local legislatures are now trying stay afloat. This comes after additional measures (bail outs and/or bribes) from the federal government. House Democrats initially tried to patch the loophole, but Republicans object to funding universal paid leave benefits, and refuse to use federal money to fund local governments.
David Rotman published a novel suggestion in the MIT Technology Review: saving as many lives as possible to save the economy. The theory is one that's been floating around op-ed pages for the last few weeks, and hinges upon regularly testing everyone for COVID-19, but since there aren't any tests...
A new executive order to mine the moon for minerals trashes the that pesky unwritten "global commons" rule space nerds and politicians have believed in for decades. The new decry says the U.S. won't stand idly while other nations attempt to use international law to prevent Uncle Sam from drilling bigass holes into the moon, Mars, or "other celestial bodies."
One More Thing...
For the first time every adorable critter in Chicago's Animal Care and Control has been adopted, Block Club Chicago reports. There has been some concern about about people not being able to fully commit to pet adoption in the post-pandemic world, but some redditors in Chicago note it's better to get animals out of the shelter and into a temporary home than letting them sit around without a friend.
OK, here's a cute critter video: A baby gorilla!
Follow Dominic on Twitter and Instagram.
The Smoke Eater is mobile friendly, ad-free and relies on your tips and subscriptions. It takes a lot of time and energy to put each issue together, so consider tipping me on Ko-Fi, or subscribing to my Patreon.
Questions? Comments? Complaints? Shoot me an email or slide into my DMs!