The Smoke Eater for Friday, Sept. 4, 2020
"Anarchists jurisdictions," Chicago politics, and Aug. 15, 2020.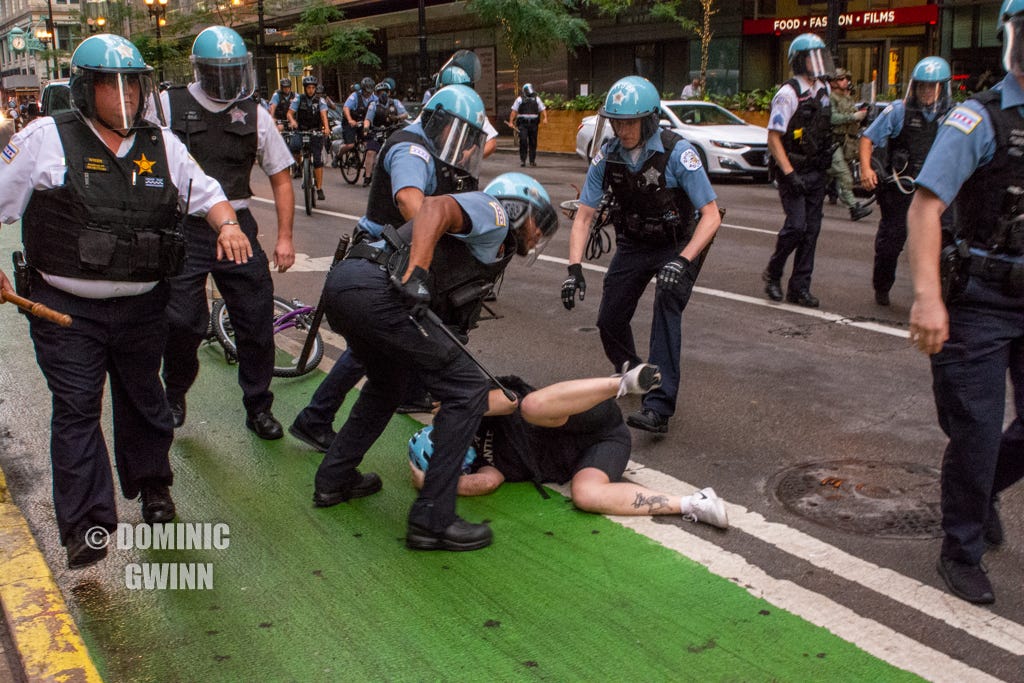 Chicago police arrest an activist at Dearborn and Randolph, Aug. 15, 2020

Good evening, this is The Smoke Eater for Friday, Sept. 4, 2020, and I'm just trying to survive.
---
Quick Hit
* Defunding the police is all the rage * Chicago Politics * And August 15, 2020 *
NOTE: This is going to be a REALLY long one, lots of photos and video, so you may have to click through to the main page on Substack. For the last several weeks I've been working on a project to expose how the Chicago Police Department used excessive force to disperse a crowd of peaceful protesters on August 15, but the whole thing kind of fell apart. I'll recount what I saw using only some of the photos and video I recorded. I'm reserving the rest for later.
The Smoker Eater is (usually) mobile friendly, ad-free and supported by super awesome readers. If you want to be super awesome, tip me on Ko-Fi, Venmo, or subscribe to my Patreon!
---
In the squares of the city, In the shadow of a steeple
On Wednesday night Trump sent a five-page memo to the White House Office of Management and Budget that sought guidance on limiting funding to U.S. cities that pass legislation to "defund" police departments. The memo also tasks the Justice Department to come up with a list of places that qualify as "anarchist jurisdictions," and to post it publicly.
The memo specifically singles out Portland, New York, Seattle and D.C., and legal nerds think this is (another) election year circlejerk that will wither and die in court -- if it makes it that far.
Seattle Mayor Jenny Durkan called the memo a distraction from COVID-19, adding the pandemic has, "killed 185,000 people, and destroyed the American economy." Portland Mayor Ted Wheeler said it was a, "campaign document," adding that Trump had sunk to a "new low" in order to, "advance his petty grudges." A spox for New York Mayor Bill de Blasio called it a, "racist campaign stunt."
Sensing an opportunity to command some headlines, New York Gov. Andrew Cuomo railed against Trump during a call with reporters, saying Trump, "better have an army" if he intends to visit New York in the future, adding, "the best thing he did for New York City was leave." Cuomo and Trump continued their long-distance bickering on Twitter because this is how adults behave in 2020.
Reuters reports the U.S. Conference of Mayors saying the memo has no standing, quoting CEO Tom Cochran as saying, "This effort is intended only to inflame tensions and divide us. It is without merit, and it would hurt the people that a president is entrusted to protect."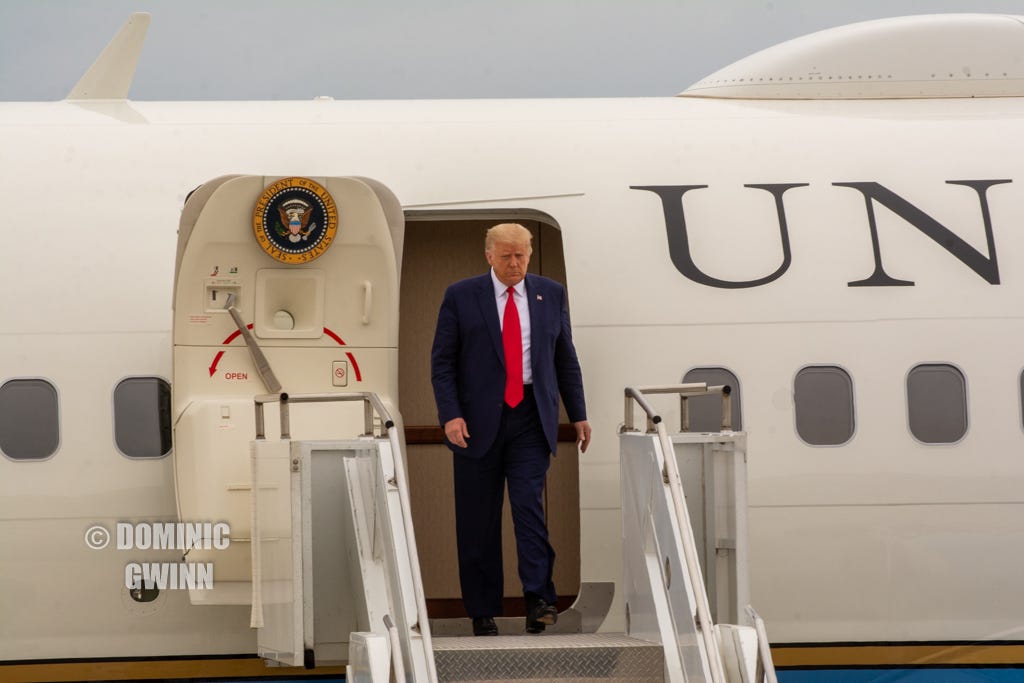 US President Donald Trump exits Air Force One in Waukegan, IL for a trip to Kenosha, Wisconsin, Sept. 1, 2020
By the relief office, I'd seen my people.
Over the last several months, a number of cities have announced or proposed cuts to police budgets.
On August 13, the Austin City Council voted unanimously to cut the police department's budget by one-third, the Texas Tribune reported. The city immediately reallocated around $20 million slated for police cadet classes towards violence prevention, food access, and abortion access. Another $80 million will be reallocated towards "forensic sciences, support services and victims' services out from under the police department and into other parts of city government," according to the Tribune. Additionally, 150 vacant officer positions are to be eliminated, and $50 million would be invested into a "Reimagine Safety Fund" for "alternative forms of public safety and community support."
When protests began back in May, New York City and Los Angeles both moved quickly to announce cuts to their respective police budgets.
Los Angeles Mayor Eric Garcetti had initially proposed substantial benefits and pay raises for police, but on June 4, Garcetti suddenly announced he was looking for $250 million in cuts from city departments that included $100-150 million in cuts to the LAPD. Garcetti said that money would be used for jobs programs, reparations, and public health initiatives.
New York moved to shift $88.1 million of its $6 billion police budget and stopped the hiring of over 1,100 officers. The state legislature also repealed a code that hid police misconduct and disciplinary records. Critics on the left have argued New York's moves don't go far enough, and are really just complicated budget gimmicks.
Baltimore city council members voted to eliminate $22 million from the police budget, though the mayor and the city police commissioner bucked those proposed changes. If enacted, half of the cuts would come from "allocated appropriations," money that the police department thinks it might need some day, with a provision saying the police would have to obtain approval from the city council for additional funds.

At the end of July, San Francisco moved to reallocate $120 million from police agencies towards homeless and community housing, "mental health and wellness, workforce development, economic justice, education, advocacy and accountability," Mayor London Breed said in an address. Breed added that the city would get rid of military-grade hardware, and that the police shouldn't be doing the work of mental health professionals.
D.C.'s city council voted to cut $15 million from the police budget, and proposed limiting the police chief to a four year term. Portland cut almost $16 million, and Philadelphia cut $33 million. And Chicago?
Well, Chicago hasn't done anything.
Pippa White holds a sign in front of Chicago City Hall, Aug. 18, 2020.
As they stood there hungry, I stood there asking
Other cities at least make it seem like they're listening to the people marching in the street, but most of Chicago's politicians have, for lack of a better term, decided to fuck off. Despite almost daily action in neighborhoods across the city, instead of following a federal consent decree that mandates police reform, Chicago has done nothing.

Last month the Chicago Police Department apologized for not meeting deadlines mandated by the consent decree, adding that it would try to do better. So far, it hasn't.
"For the most part," a colleague working the city politics beat for around 15 years gripes, "The city is playing this like they've played every other protest/movement for the past decade, but with the volume turned up to 11. Give the cops a pass, blame the victims, say protests are fine and great but try to call these protests something different because the cops decided to go HAM on people and we don't criticize cops."
Chicago Mayor Lori Lightfoot and her hand picked police superintendent, David Brown, have been quick to defend peaceful protests, and justify every incident of police beatings as the work of "agitators," even in the face of evidence showing the police as instigators of physical confrontations.
Recently, this gaslighting led pro-police aldermen to push for an emergency disaster declaration. Their hope was to get the governor to send in the National Guard. Earlier this week, the parallel right-wing universe in which the Chicago Tribune's Editorial Board resides farted out bullshit on how police dispersal orders don't allow police to engage with people.
Protests are fine, they say from the safety from their enclaves, but the violence must stop!
Any decent reporter who's been on the ground in Chicago for the last five months will tell you that protesters usually just march around yelling and screaming and blocking traffic for a few hours. They eventually just wear themselves out, and go home. With the exception of July 17, things get violent when police start seizing bicycles from protesters, or ripping away umbrellas from kids who are afraid of getting pepper sprayed.
For some reason those op-eds and city officials don't mention how some police officers subtly escalate situations. They don't talk grandstand about police sitting back and watching as businesses all over the city, large and small, were destroyed on May 31. Those officials won't talk about how several police officers entered US Rep. Bobby Rush's office and took naps, drank coffee, and ate popcorn while people looted stores on the South Side. But they'll bemoan downtown becoming a militarized castle, complete with draw bridges, in order to protect luxury shops.
They want the Guard standing around skyscrapers with thumbs up their Multi-Cams. They just don't want the $54 million bill.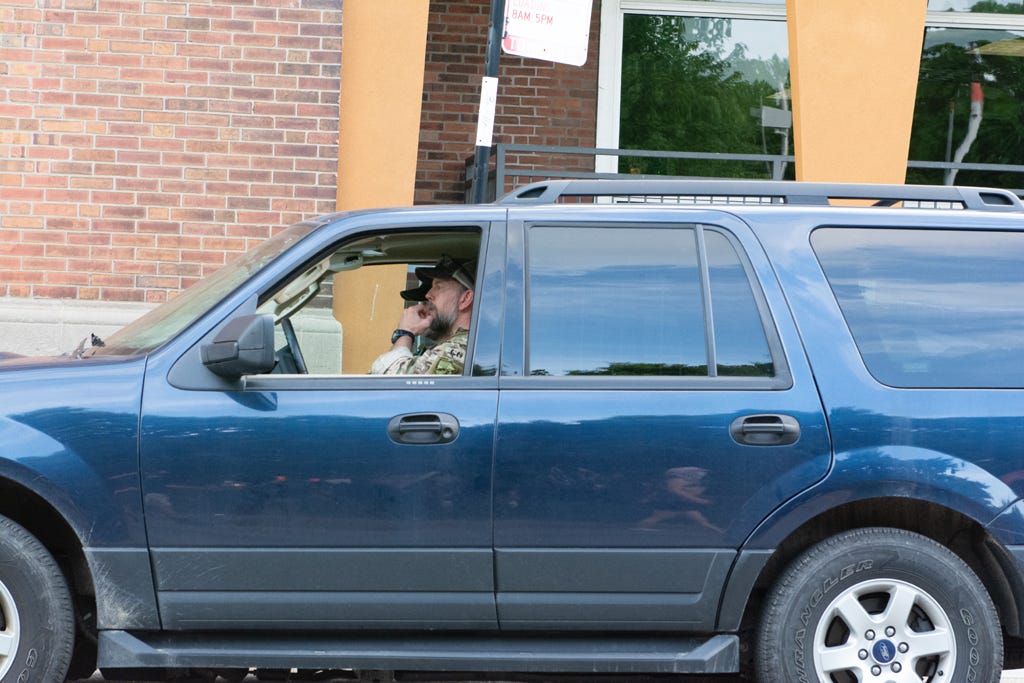 Members of the Illinois National Guard sit in an unmarked SUV during a protest at Union Park, June 5, 2020. Photo by Dominic Gwinn
Is This Land Made For You And Me?
Efforts to reform the Chicago Police Department are defeated with an almost comic regularity. In 1974 there was the Office of Professional Standards (OPS), but it was created under the thumb of the notoriously police-friendly mayor, Richard "Shoot to Kill" J, Daley. OPS was replaced in 2007 by the by the Independent Police Review Authority (IPRA). Less than ten years later, the Police Accountability Task Force found IPRA was "badly broken" in the wake of the police murder of 17-year-old Laquan McDonald. In 2017, the Civilian Office of Police Accountability (COPA) replaced IPRA. Today COPA faces the same complaints as the previous alphabet soup of failures in that it's seen as toothless and ineffective at holding police accountable.
Police reform advocates in Chicago have proposed ideas that could make CPD beholden to a panel of civilians, but they inevitably get beaten into submission. The latest proposals in Chicago to wither on the vine are Grassroots Alliance for Police Accountability (GAPA) plan, and the Civilian Police Accountability Council (CPAC).
GAPA is effectively COPA (a board of civilians appointed by the mayor) with a few extra bells and whistles. The plan died earlier this year after Lightfoot demanded she run the show rather than an oversight board that could overrule her. Lightfoot supported GAPA as head of the Police Accountability Task Force, then she became mayor and dumped it.

Until recently, CPAC was seen as the more radical option, though it's been floated around activist circles for some time. CPAC, according to my cantankerous colleague, "would be an elected civilian board that would have the power to hire and fire cops, investigate claims of misconduct, have full authority on disciplinary measures, negotiate the police contracts, and be the final authority on policy and oversight." Additionally, anyone who has been employed by CPD, the city government, or the Cook County State's Attorney's Office, would be ineligible from serving on the board. And so would members of their immediate family.

Even if progressive aldermen can raise enough of a stink to get people on their side, there isn't a single thing that happens in Chicago until the mayor signs off on it.
"Lightfoot was the head of OPS during [Richard M.] Daley for a couple years," my crusty colleague adds, "Then was later in charge of IPRA, then was part of the task force that recommended COPA as IPRA's replacement. Basically, before she became mayor, Lightfoot had a hand in running police oversight in various iterations for YEARS under two mayors, did jack shit, and now is doing jack shit."
One is inclined to ask why Lori Lightfoot was absent on August 20, the final night of the Democratic National Convention, as mayors from smaller cities touted their reform efforts. Or why new Fraternal Order of Police Lodge #7 President John Catanzara was invited to the White House to see Trump speak on the final night of the Republican National Convention (even though he's been stripped of his police powers).
Writing in Vanity Fair, Eve Ewing notes that police unions have a death grip on city officials, making reforms difficult. Andrew Hawkins writes in The Verge that many of these proposed reforms are likely to happen at the local level over the course of several years. I should note that since proposing reforms, some of these city police departments have beaten the shit out of people who are, ironically, demanding police stop beating the shit out of people.
One More Thing...
On August 15, the Chicago police department forcefully engaged with peaceful protesters, then gave misleading statements about a kettling incident that trapped protesters, credentialed press, and injured people in need of medical attention.
The fourth of several known actions that began earlier in the day, protesters began massing at the Cloud Gate sculpture in Millennium Park at 4pm. They then moved to take the intersection of Washington St. and Michigan Ave. where they staged a brief rally. Members of Good Kids, Mad City, co-organizers of the event, noted that they would be identifiable by orange bandanas.
Jalen Kobayashi, of Good Kids, Mad City, speaks to protesters at Washington and Michigan, Aug. 15, 2020
The group then moved north along Michigan Ave. Police blocked both the east and west bound lanes of Upper Wacker Dr. at Michigan Ave. with bicycle police, and a stand-off ensued between bike marshals and police.
A "No Man's Land" between police and bike marshals formed in the cross walk that narrowed towards the raised Michigan Ave. bridge. Protesters stood west of the crosswalk intersecting with Upper Wacker while police stood east of the crosswalk.
The initial standoff between police and bike marshalls, Aug. 15, 2020
Police and protesters continue to block the intersection, Aug. 15, 2020

Around the same time a SWAT team was dispatched to the ensuing stand-off, it began raining. Some activists, press, and street medics put on raincoats or cheap ponchos, and took out umbrellas while the SWAT team spoke with an officer in command in front of the protesters. At one point, a call came out of the police scanner that triggered protesters to bring "umbrellas to the front" as people feared being pepper sprayed.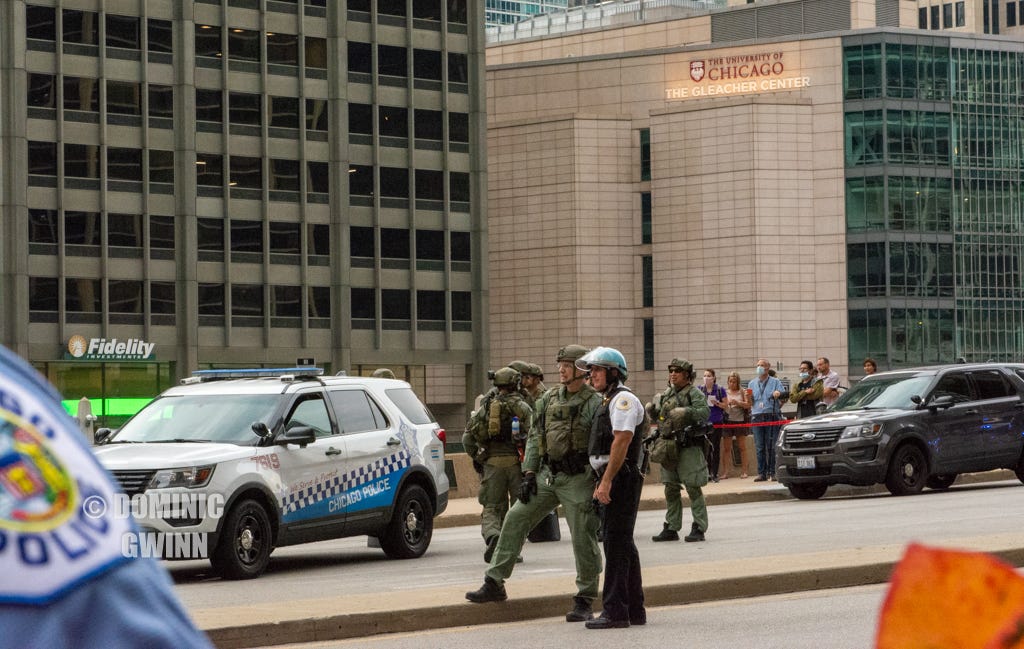 At this point the crowd was peaceful. I was personally able to walk into No Man's Land, lay down on the ground, and take photos of police and protesters staring one another down without any problem. In the process of this, one officer (known to some protesters as "Hot Greek Cop") removed his body camera, filmed several protesters, and placed his body camera inside or on his bicycle pannier bag.

An officer known to some activists as "Hot Greek Cop" records protesters with his body camera, Aug. 15, 2020
"Hot Greek Cop" no longer has his body camera in on his tactical vest, Aug. 15, 2020
Several officers north of my position moved forward into the crosswalk. When one officer suddenly ripped away an umbrella from a protester, other officers began to follow suit. A scuffle ensued, and the SWAT team moved in to pepper spray the group.
Police officers begin ripping away umbrellas from protesters, Aug. 15, 2020.

Contrary to CPD's initial statement, I did not witness protesters taking any action until CPD engaged. Everyone was simply standing around.
SWAT moved into the intersection of Michigan and Upper Wacker and deployed pepper spray. As the rain mixed with the pepper spray, slick spots began forming on the pavement, causing me to lose my footing and caution a colleague.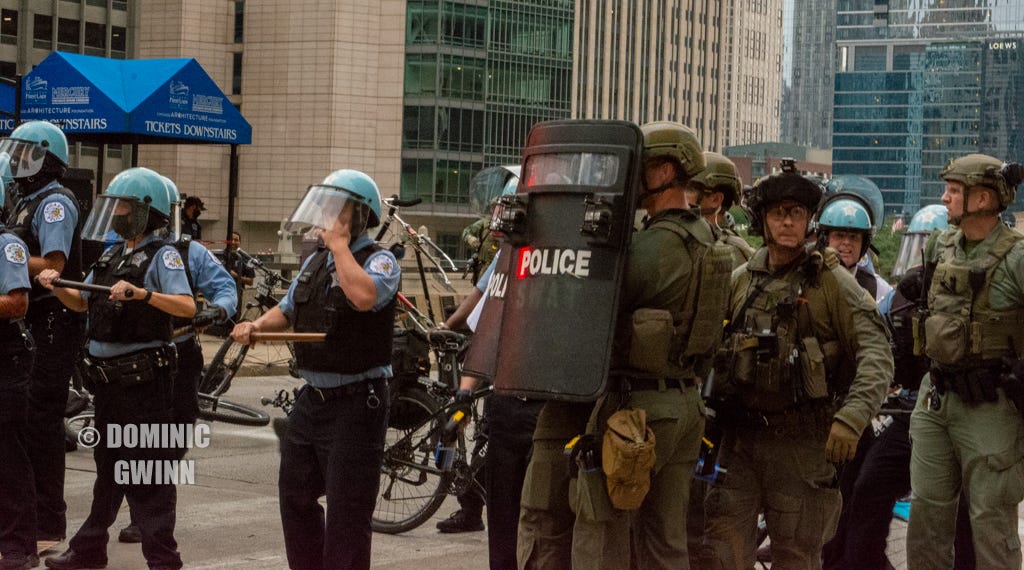 SWAT officers fall back after deploying pepper spray, Aug. 15, 2020.

Stand-off lines reformed roughly along their original positions, though the "No Man's Land" was much wider. A protester who had been pepper sprayed walked into "No Man's Land" to criticize the police.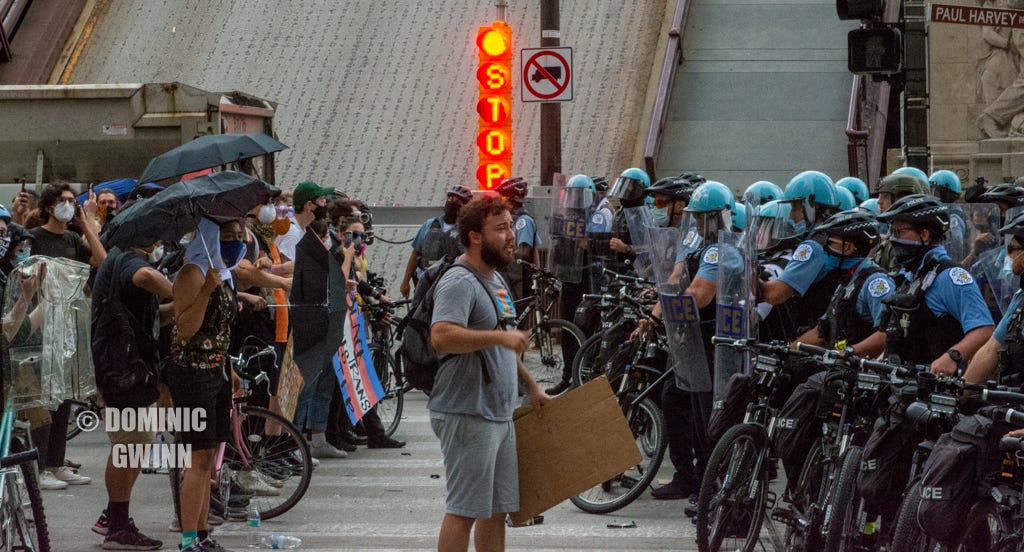 When additional CPD units in riot gear arrived on the scene, they began herding protesters into the south-bound lane of Michigan Ave. at Upper Wacker Dr. A temporary medic station at the corner of the south east corner of Michigan and Upper Wacker was violently dismantled by CPD as they flanked protesters. Injured persons and street medics were threatened with arrest, and CPD attempted to seize medical supplies from self-identified street medics.
While taking photos atop a median separating the north and south bound lands of Michigan Ave, CPD Sgt. Robert Kellam approached me with two officers, grabbed me by the shirt, and demanded I move into the street. I instinctively raised my hands and camera as the officers demanded I "back off" and "get down on the street."
A group of protesters, press, injured people, and curious bystanders were instructed to move south down Michigan Ave as CPD formed a phalanx. CPD command units demanded members of the press display their credentials to avoid arrest. The phalanx, which now included Police Superintendent David Brown, continued moving people south, block by block, until the group was herded west onto Randolph St.
A police officer takes cellphone video of Police Superintendent David Brown (long sleeve white shirt, gold star) watching protesters get herded down Michigan Ave., Aug. 15, 2020
CPD, including Police Superintendent David Brown (long sleeve white shirt), move protesters down Randolph St. past Wabash, Aug. 15, 2020
CPD officers had given a wide berth to retreating protesters until the group reached Dearborn. As the rear of the protest group approached Dearbon, officers deliberately engaged in a violent confrontation with bike marshals.
Officers began seizing bikes and violently arresting people. As the group attempted to retreat further west Randolph, a police commander began liberally deploying pepper spray on everyone near him. The SWAT team then moved in and deployed pepper spray in a wide, upward-arcing dispersal pattern.
CPD deploys pepper spray on retreating protesters at Dearborn and Randolph, Aug 15, 2020.
As I attempted to film protesters being dragged and arrested by CPD, two bicycle-mounted officers approached me and began violently hitting and shoving me into the group of retreating protesters. I identified myself as press, and pleaded with Glen Brooks, the Director of Public Engagement for CPD, as the two officers continued hitting me from behind.
Retreating protesters continued to fall back two blocks, past the Thompson Center. People were herded south onto LaSalle St. as access to other roads became restricted. An EMS unit at the intersection of LaSalle and Randolph tossed water bottles to street-medics and instructed them to use it as an eye washing aid.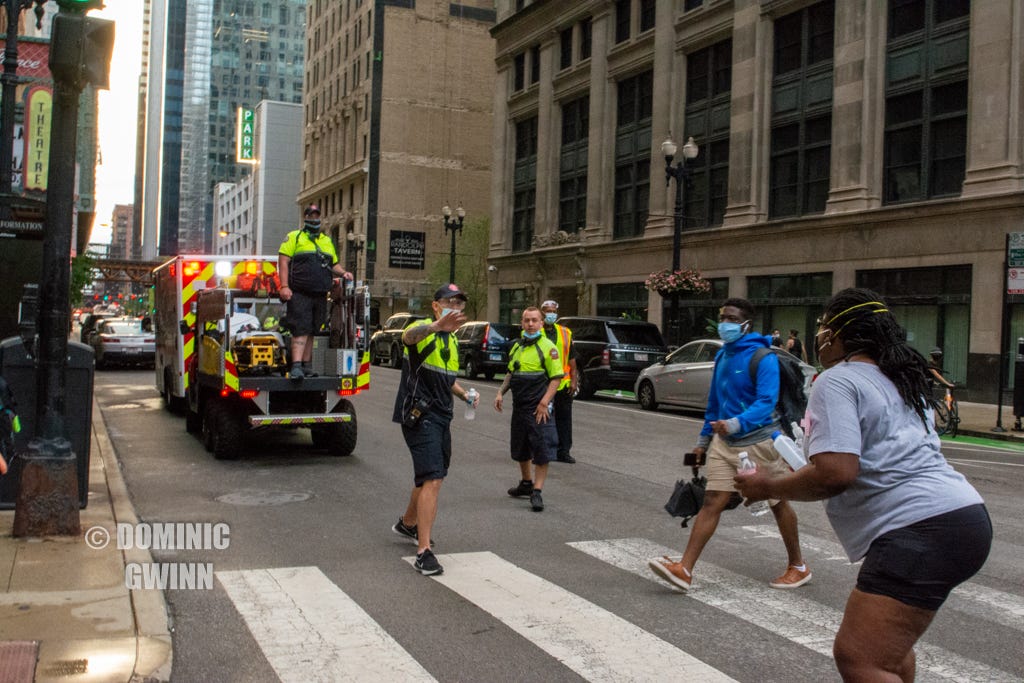 EMS units toss water to a street medic attempting to keep pace with protesters, Aug. 15, 2020
As CPD continued to herd the group south down LaSalle, bicycle units raced ahead to block off access to alleys and roads. At this point I began to slow my pace as my skin began to burn from pepper spray. I heard protesters shouting ahead of me, and saw people behind me running. I turned around and saw a large contingent of riot police rushing the crowd.
From this moment on, everyone was trapped. CPD began forcing protesters to submit to bag searches without cause. Some protesters were ordered to remove masks and respirators, and at least one person began suffering an asthma attack in front of at least a dozen officers. I witness any officer attempt to administer first-aid, or request an EMS unit for injured persons.
I personally heard one officer give a verbal dispersal order, but only after the crowd was completely surrounded and unable to leave. Fearful protesters began chanting, "We just want to go home." A short time later, police used an amplifier to issue a dispersal order as they forced people to submit to searches of their belongings.
Some of the items that CPD seized, or forced people to abandon, included basic first-aid supplies, bicycle tools, umbrellas, respirators, personal protective equipment such as surgical masks and rubber gloves, and water bottles.
I stuck close to a prominent reporter at a major Chicago newspaper, and asked that we film each other being searched over a concern CPD could seize my camera equipment. A police officer recognized the reporter and asked asked if the reporter was OK. The reporter replied that people were, "kind of stuck here."

Sgt. Kellam appeared and asked if the reporter was OK, and if they would like to leave. We both declined. Sgt. Kellam then began speaking to us in a friendly manner. He asked me several questions about "The Smoke Eater," and how one makes money freelancing.

Several police officers commented that their skin was burning. I replied that everyone's pores had soaked up a lot of pepper spray, an aerosolized chemical agent, adding that the effects were likely exacerbated by everyone being confined in very close quarters. Everyone needed a shower, I said, and some bourbon.
Several minutes before 8pm, as the last two people were searched, police escorted the reporter, the photographer and myself across LaSalle St. to the other side of Adams St. Upon reaching the other side of Adams, I spotted a police officer with a long-gun.
Chicago police escort credentialed press out of the kettle, Aug. 15, 2020
A Chicago police officer holds a long-gun on Adams St. by several ambulances, Aug. 15, 2020.

Superintendent Brown would later claim that he was "aware" of video suggesting police kettled protesters. I personally witnessed Superintendent Brown at the kettle, and police detectives filming protesters on cellphones, with body cameras, and with camcorders throughout the evening.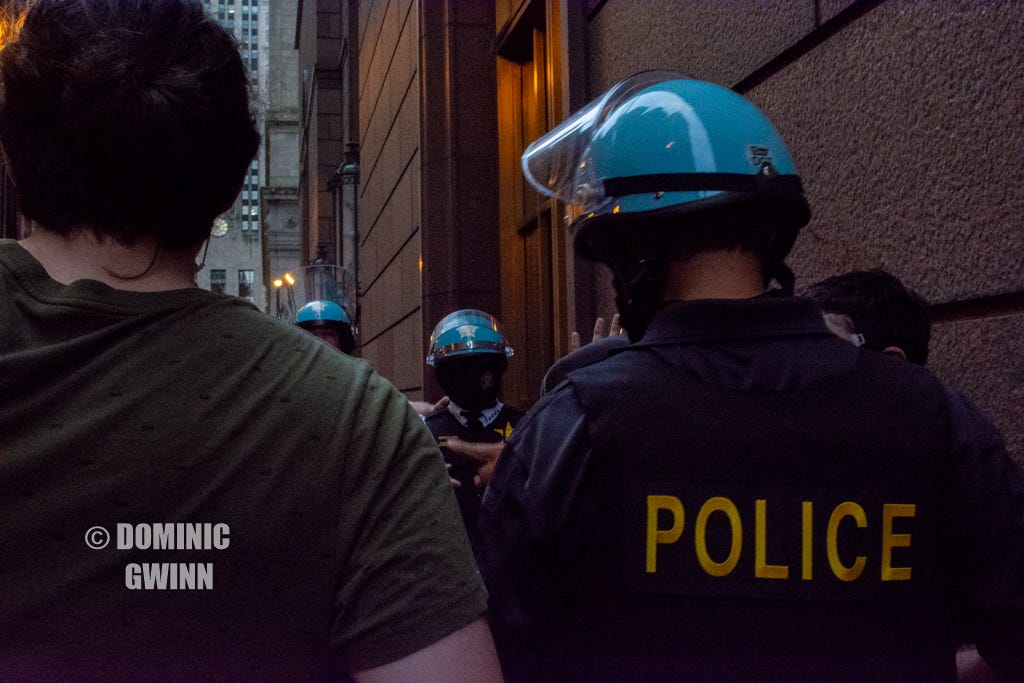 Chicago Police Superintendent David Brown, center, looks on at trapped protesters and press. Brown can be identified by the four stars on his lapels. Aug. 15, 2020
A Chicago police detective films trapped protesters at LaSalle St. and Adams St., Aug. 15, 2020
OK, here's a cute critter video: IT'S OWLKITTY!
Follow Dominic on Twitter and Instagram.
The Smoke Eater is (usually) mobile friendly, ad-free and relies on your tips and subscriptions. It takes a lot of time and energy to put each issue together, so consider tipping me on Ko-Fi, Venmo, or subscribing to my Patreon.
Questions? Comments? Complaints? Shoot me an email or slide into my DMs!