The Smoke Eater For June 4, 2020
I fought the law, and the law won.
CPD Officer Birdsong grabs a protester on Saturday, May 30, 2020. Photo by Dominic Gwinn

Good evening, this is The Smoke Eater for Thursday, June 4, 2020, and I just want to reach out and say...
---
Quick Hit
* A retrospective * Chicago's "monster" * Strong unions * A shitshow" * Choices *
NOTE: I probably should have cobbled something together earlier this week, but I didn't. I've been covering protests, rioting and looting in Chicago. Photos, videos, and tweet threads have been collected and posted to my Patreon for free. I wish I could find the words to properly express what I saw this weekend, but I can't.
The Smoker Eater is mobile friendly, ad-free and supported by super awesome readers. If you want to be super awesome, tip me on Ko-Fi, or subscribe to my Patreon!
---
Law And Order
Like other independent journalists, I've followed civil unrest stemming from police violence in multiple cities across the country. I was in St. Louis taking photos with Linda Tirado (who lost her left eye after being shot in the face with a rubber bullet by Minneapolis police last week -- she's doing OK-ish, BTW) during the 2017 protests. One night we were following an action through the pristine cobblestone streets of St. Charles, MO. The annual craft beer festival had just ended and a thousand rich, drunk suburbanites began began pouring out of tents to confront Black Lives Matter protesters. It was one of the few times I've ever really been afraid for my life.
Back then, disgraced Republican Gov. Eric Greitens tried to intimidate peaceful protesters demanding justice for the deaths of Mike Brown and Anthony Lamar Smith. Greitens called the demonstrations an, "unlawful assembly." One night some protesters through a few rocks at police, so they launched tear gas and pepper sprayed a residential area indiscriminately. A few days later, a large, peaceful protest descended on downtown St. Louis. Police surrounded the crowd and used pepper spray to subdue and arrest everyone, including journalists. They call this, "kettling."
The officer accused of murdering Smith, Jason Stockley, had beat a first degree murder charge for the 2011 shooting death of Anthony Lamar Smith earlier in the year. Stockley was heard saying he would, "kill this mother fucker," after Smith tried to evade police. Stockley was found to have his personal AK-47 style rifle in his police vehicle. Video evidence led some to believe that Stockley planted a .38-caliber revolver in Smith's car as DNA on the gun belonged to Stockley, but it was never proven. Stockley later sued the prosecutor and internal affairs. When Smith's family tried to sue they were told key evidence in the case was tainted.
Stockley now lives in Houston, according to his LinkedIn page, where he's a "security specialist." Stockley's attorney got a job representing the city of St. Louis.
Riot police in St. Charles, MO protecting a casino from peaceful protesters, Sept. 22, 2017. Photo by Dominic Gwinn
16 Shots (And A Cover-Up)
Two years ago, Chicagoans took to the streets to demand justice for the 2014 death of 17-year-old Laquan McDonald. In that case, Chicago police officer Jason Van Dyke was found guilty of second degree murder and a number of other charges. Van Dyke's defense attorney attempted to paint McDonald as a "monster" from a horror movie who was "whacked-out" on PCP. He told the jury, "When a monster turns and looks at the victim, that's when the music starts to play."
The jury disagreed. Dash cam footage from a fellow officer showed Van Dyke jump out of his police vehicle and shoot a knife-wielding McDonald 16 times. At the time, NPR affiliate WBEZ noted that it was, "the first time in decades that a Chicago police officer has been convicted of murder for an on-duty death." Following the conviction, Kevin Graham, then the president of the Chicago Fraternal Order of Police, said politicians used the Van Dyke case to, "really kick around the Chicago Police Department, which is unfortunate."
Protesters prior to the verdict of Jason Van Dyke, Oct. 10, 2018. Photo by Dominic Gwinn
"I Am The Law"
Established legal precedents give police the benefit of the doubt under the premise that accidents happen when one rushes into potentially dangerous situations blind. Known as qualified immunity, this can effectively shields cops from charges of excessive force provided they can demonstrate there was a reasonable belief they were in danger, Zoe Tillman explains. Because the parameters of qualified immunity can vary from state to state, one state's extrajudicial killing is another state's unfortunate accident (or whatever the legal term de jur).
One of the biggest factors in stifling reforms are police unions. Melissa Segura explains in Buzzfeed that the number of police unions has grown exponentially in recent years, and so too have the protections for officers. Instead of working to correct bad behaviors or practices, police unions have fought elected government officials at the city, state and federal level who've attempted to institute even the most modest changes. This leads to departments essentially ignoring complaints, or reinstating officers fired for misconduct. Additionally, police unions have become movers and shakers in politics. They can be prolific fundraisers, swinging local elections in favor candidates less inclined to institute reforms.
Where most unions often argue for better working conditions, police unions tend to protect police officers from scrutiny. NPR's "The Indicator" reports that the rise in police unions has led to a substantial increase in the killing of innocent people, predominately African Americans.
N.I.M.B.Y.
When the Obama-era Justice Department tried to fight police abuses in Baltimore, Chicago, and Ferguson, MO with consent decrees, police unions raised holy hell. The Obama administration spent $75 million on body cameras in an effort to shine light on alleged misconduct, but cops still have to turn the cameras on.
One of the stipulations of Chicago's consent decree was that police had to use their body cameras whenever they pointed a gun at someone. The Chicago FOP claimed that cops being unable to aim a gun without first turning on a body camera jeopardized the life of the officer. However, as noted by Rashawn Ray on Lawfare, studies have found that unconscious biases lead to instinctively reaching for a weapon because one simply assumes the other person has a weapon.
Regardless of the effectiveness of body cameras, the self-described "president of law and order" has made it almost impossible to enforce consent the decrees intended to reduce incidents of violence or excessive force. Additionally, as the Washington Post points out, the current DOJ has ended programs aimed at helping police departments voluntarily reform; slashed and/or scrapped funding for community policing service groups; walked away from civil rights protections; and filled up a data collection and training commission with law enforcement officials instead of accountability and/or reform advocates.
"My Kind Of Town"
John Catanzara, the new president of Chicago's FOP, is one of the most frequently reprimanded cops in the history of the Chicago Police Department. He has list of wrist slappings so long the department has him driving a desk. Catanzara lost his police powers after he filed a report against the city's former top cop, Eddie Johnson, after Johnson marched with clergy and anti-gun violence protesters in the 2018 shutdown of the Dan Ryan Expressway. Upon his election, he received a Trump tweet congratulating him.
A protesters holds a sign during the shutdown of the Dan Ryan Expressway in Chicago, July 7, 2018. Photo by Dominic Gwinn
This morning Cantanzara ripped the city's response to rioting and looting in Chicago this past weekend, calling it a, "quote-unquote shitshow." Speaking to the Sun-Times, Catanzara said the riots on Saturday represented a failure of the leadership, pointing fingers at Chicago Mayor Lori Lightfoot and Illinois Gov. J.B. Pritzker. "Everybody that was on the street Saturday night should have been rounded up and locked up for curfew and held," Catanzara said. "They should have stopped cars, taken them out of cars and impounded the vehicles."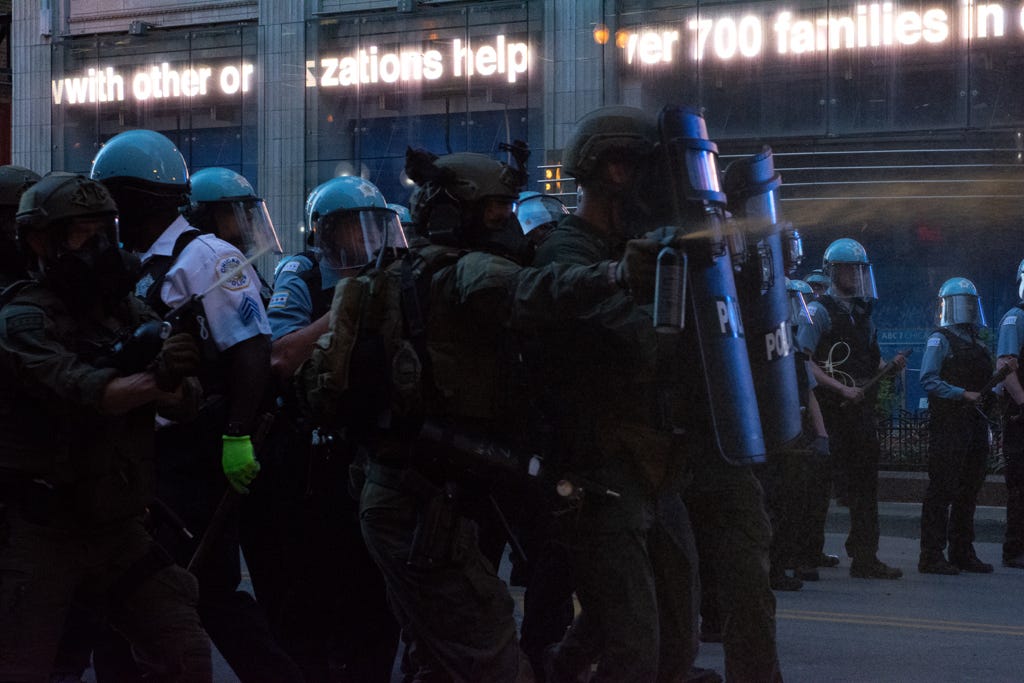 A CPD SWAT team pepper sprays protesters, May 30, 2020. Photo by Dominic Gwinn

Local reporting shows over 250 complaints have been filed against Chicago police since Friday. Protesters and journalists report police covered their name tags and badge numbers, beat people, and fired pepper spray into crowds indiscriminately. In one instance, a black woman was dragged from her car by her hair after police smashed her windows, then pinned her by the neck.

Cantanzara may be an acolyte of the MAGA cult, but police in Chicago were ordered not to use force against protesters, likely out of a fear of repeating the 1968 riots, the violence from the 2012 NATO clashes, or the 2013 ALEC anniversary meeting. According to orders from Chicago Police Superintendent David Brown last week, "large gatherings will only be monitored until the crowd disperses on its own."

NOTE: I personally witnessed officers violate this order on Friday, Saturday, and Sunday. I also watched other officers stand idly as rioters smashed storefronts, burned buildings, and overturned police cruisers. I have photos and video to support both accusations.
A bus of CPD officers in riot gear arrives to protect Trump Tower, May 31, 2020. Photo by Dominic Gwinn
A SWAT medic arrives to wrap a battle dressing on a scared 11-year-old boy who cut his leg open after slipping on broken glass during rioting, May 30, 2020. Photo by Dominic Gwinn.
A protester throws a bottle at a burning police vehicle. May 30, 2020. Photo by Dominic Gwinn.
One More Thing...
I chose to keep taking photos when SWAT pepper sprayed me, and I chose to go back the next day. Riot cops can choose to pull a trigger, or take a knee. Protesters can choose to ball their fists, or raise one.

When the time comes to make your choice, make the right one.
OK, here's a cute critter video: BABY GOATS!
Follow Dominic on Twitter and Instagram.
The Smoke Eater is mobile friendly, ad-free and relies on your tips and subscriptions. It takes a lot of time and energy to put each issue together, so consider tipping me on Ko-Fi, or subscribing to my Patreon.
Questions? Comments? Complaints? Shoot me an email or slide into my DMs!