The Smoke Eater For May 29, 2020
Full-fledged bloodletting, exporting civil war, and "Multiplcity."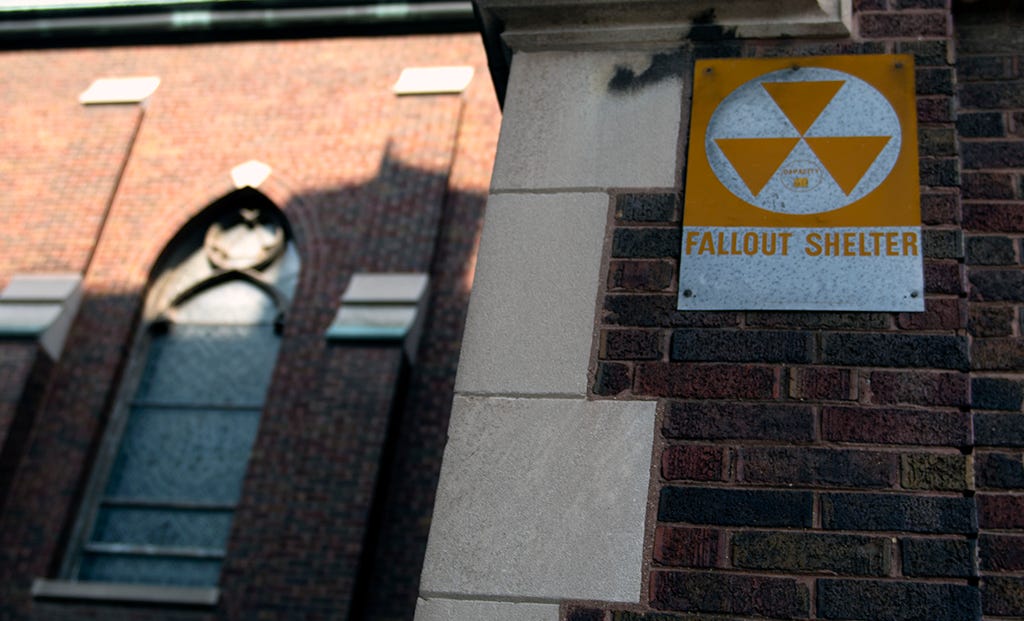 A sign designating a fallout shelter on a historic church in Chicago. Photo by Dominic Gwinn.

Good afternoon, this is The Smoke Eater for Friday, May 29, 2020, and the city's on heat.
---
Quick Hit
* We're still in Afghanistan * All the cool kids have long-range stealth bombers * Exporting civil war * A fabulous, private vacation * "We're gonna eat a dolphin" *
NOTE: The Smoker Eater is mobile friendly, ad-free and supported by super awesome readers. If you want to be super awesome, tip me on Ko-Fi, or subscribe to my Patreon!
PATREON SUBSCRIBERS: On July 1st Patreon will start charging a sales tax to some users based on their location AND the benefits creators dole out to their fans. This won't affect The Smoke Eater as it's free and hosted on Substack. Patreon says they're emailing all patrons on Monday, June 1, but I wanted to give you the heads up. Here's one of the videos Patreon CEO Jack Conte sent to all creators explaining the change. I still haven't sat down to dig into this, but know that my goal (as always) is to keep all costs at the bare minimum, and be 100% honest and transparent with everyone. Money's tight, every penny counts, and y'all are helping me keep the lights on right now. -D
---
There's A War Going On
Hoping to create more distractions and talking points ahead of November, the administration is once again considering pulling U.S. forces out of Afghanistan, The New York Times reports. Pentagon officials are said to be urging against a rapid withdrawal of U.S. forces due to a string of deadly bombings and clashes in recent months. Of the several plans being discussed, according to the Wall Street Journal, one would leave 5,000 troops in country, another would leave 1,500, while third would see a complete withdrawal of all U.S. forces.
In February the administration negotiated a "peace" deal with Taliban leaders to dramatically reduce the number of U.S. forces in Afghanistan. The deal came after years failed talks and assorted political shenanigans. Initially the offer was to be signed at Camp David in 2019 -- around the anniversary of September 11 -- but political pressure in the U.S., and attacks in Kabul that left 12 dead, including an American soldier, scuttled the agreement. It was resurrected amid a (since resolved) Intra-Afghan political dispute over the Afghan presidential election. The agreement was reached without any representative of the Afghan government or its rival political party due to the Taliban's refusal to acknowledge the legitimacy of the Afghan leaders.
U.S. military officials are said to be concerned the Taliban that the Taliban is refusing to adhere to the agreement, as well as fears about an outbreak of the coronavirus in Afghanistan. As was predicted in early March, the Taliban have (essentially) a violated the conditions of the agreement by increasing attacks on the military and police forces -- despite shitposts from the administration that there had been "no violence".

Earlier this month Taliban forces began attacking hospitals, including a maternity ward in Kabul. The latter left at least 24 people dead, including mothers, newborns, and midwives. The New York Times has described the hostilities as a, "full-fledged bloodletting."
Mujib Mashal has a brillant piece in the NYTimes that goes into detail about how the Taliban rose to power in the 1990s, collapsed after 9/11, and resurrected themselves during the Iraq war. Mashal notes that one problems undermining the any peace deal is the threat of rogue actors inside the Taliban. The Taliban wants to be considered a political equal in the Afghan government, even if its beliefs about women and culture are fundamentally at odds with the (supposedly) U.S.-backed government in Kabul.
A January report from the U.S. watchdog in charge of reconstruction in Afghanistan found the country is responsible for 90 percent of the world's heroin supply. In turn, this fuels a big chunk of the Talbian's operations (despite running counter to their own fundamental religious beliefs). Additionally, the report found poverty levels continued to rise despite billions in U.S. investment.
Hundreds of Taliban prisoners were released from prisons this week, per the peace agreement, under promise that they won't return to the battlefield. The other day the AP reported officials were hopeful that the start of a second round of negotiations between the Taliban and Afghan government could yield a cessation of violence.
If All Your Friends Jumped Off A Nuclear Bridge
Russia's state-owned TASS news agency claims Russia has begun building its first stealth bomber. According to TASS, the bomber should be completed next near. This comes hot on the heels of China's state-owned news services boasting in January that their own long-range stealth bomber, the H-20, would be officially unveiled during a November airshow. Over the last few years, the U.S. has been dusting off its own fleet of nuclear-capable bombers and doomsday command aircraft amid rising aggression from Russia and China.

U.S. Africa Command released photos and videos showing Russian Su-35's flying right up the ass of a U.S. P-8a during a recon patrol over the Mediterranean earlier this week. A press release from the U.S. Navy says the Russian's "flew in an unsafe and unprofessional manner" for the third time in two months, adding that these "unprofessional" actions, "increase the potential for midair collisions." Joseph Trevithick over at The War Zone points out that the Su-35s were armed with some concerning payloads, and that Russian fighter pilots have been flying like dumbass, madcap teenagers so often that the Navy developed a special camera system in 2016 to shoot down the Kremlin's repeated denials.
The Throughline
All this craziness is related to Libya's civil war. There's a lot to unpack here, but the (very crude) TLDR is Libya went totally shithouse in 2011 during the Arab Spring. Muammar al-Gaddafi was killed, the Benghazi incident happened, I.S.I.L. moved in, and the U.N. tried desperately to keep half-a-dozen different political factions from blowing everything up with Gaddafi's old weapons. Russia sent more weapons and some Kremlin connected mercenaries, the Wagner Group, to back Khalifa Hafta, a Gaddafi-wannabe already backed by the United Arab Emirates and Egypt.

Because the Saudi's and Egypt lobbied Trump to back Haftar, the U.S. and Western powers have largely stayed out of the conflict (save for a sporadic bombing campaign). Sensing an opportunity to make some money, power, and stroke a raging war boner , Turkey sent its military, (and some Syrian rebel groups) over to support the U.N.-backed Fayez al-Sarraj.

Yes, instead of backing a shitty NATO ally and the U.N., the U.S. gave the blessing to a warlord backed by Russia because the Saudi's and Egypt said he was cool.

By all accounts, the Syrian civil war has been exported to Libya, and Turkey might have gained the upper hand. Last week Haftar began falling back from key positions, so the Russians sent their own Syrian mercenaries, and some unmarked MiG-29s and Su-24s, according to AFRI-COM. Earlier this week Reuters reported Moscow was suddenly backing an immediate ceasefire and political talks.

Bottom Line: There are no "good guys," just varying shades of assholes.

Meanwhile, Back In The States
Reuters reports wealthy people are still planning their summer vacations. Instead of more traditional sight seeing escapes in foreign countries, the fabulously well to do are renting private planes, luxury R.V.s, and remote resorts that advertise privacy and intimacy. Their hope is to avoid interacting with any locals who might have cooties.
One More Thing...
The 1996 film, "Multiplicity," isn't considered one of the best films directed by the late Harold Ramis when compared to the enduring success of "Groundhog Day." The film stars Michael Keaton as an over-burdened construction worker who is given the opportunity to clone himself in order to spend more time with his family. Finding himself unable to cope with all the duties of running a household, Keaton clones himself a third time only to find the original clone has developed his own, masculine identity and desire for independence. Things quickly begin spiraling out of control after when the clones decide to make a clone of themselves, leading to "a copy of a copy" that isn't as, "sharp as the original." (via Tubi)
OK, here's a cute critter video: A PYGMY HIPPO!
Follow Dominic on Twitter and Instagram.
The Smoke Eater is mobile friendly, ad-free and relies on your tips and subscriptions. It takes a lot of time and energy to put each issue together, so consider tipping me on Ko-Fi, or subscribing to my Patreon.
Questions? Comments? Complaints? Shoot me an email or slide into my DMs!