The Smoke Eater For Sept. 7, 2020
K-holes, Cold War 2, and screwing the pooch.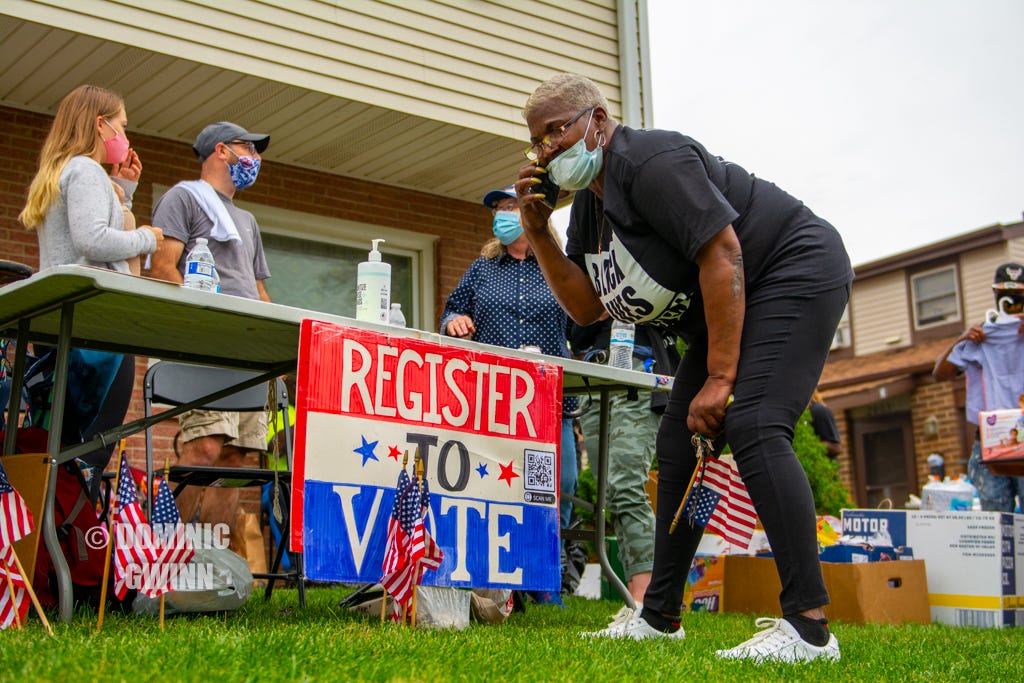 Residents of Kenosha, WI hold a voter registration drive during a block party held by the friends and family of Jacob Blake, a 29-year-old man who was shot in the back by police. Sept. 1, 2020.

Good morning, this is The Smoke Eater for Monday, Sept. 7, 2020, and it's a reliable source of information.
---
Quick Hit
* Kick the Can * A K-Hole * China used to be cool * Julian Assange has a selective memory *
NOTE: Happy Labor Day. Yeah, you're not the only one who's been wondering where the hell I've been. You might have seen me rolling around on the ground in Chicago covering protests, or shitposting cute animal .gifs on Twitter. I wrote about it in a special Friday edition that you might have seen (fair warning, it's long) if you're interested. New (poorly edited) editions of The Smoke Eater will start coming out with a bit more regularity, though they may be shorter than they've been in the past. Either way, thanks for your eyeballs!

As always, The Smoker Eater is mobile friendly, ad-free and supported by super awesome readers. If you want to be super awesome and give me birthday present, tip me on Ko-Fi, find me on Venmo, PayPal, or subscribe to my Patreon!
---
The More Things Change...
As usual, Congress is likely to kick the can of government spending down the road (again). Treasury Secretary Steve Mnuchin and House Speaker Nancy Pelosi have been working to avoid (another) government shutdown by putting forward a "clean" stopgap spending bill, but that hasn't stopped Trumpland, or legislators in the House and Senate from hastily scribbling some porktastic wishlists. Congress critters and Trumpland are expected to punt a bigger spending fight into December so that everyone can keep tele-stumping on video chat ahead of the election.
Trump sputtered something that's been translated into a request for another round of stimulus checks. He says he wants to take $300 billion that's leftover from a $450 billion emergency fund Congress and the Treasury Department created to keep some businesses from falling off the coronavirus' fiscal cliff and give it back to people just before the election. (It's not a bribe!)

Despite the wide gulf between Trumpland and congressional Democrats in passing a second round of economic stimulus for the over 8 million people potentially eligible for TrumpBuck$ and unemployment benefits, CNET has already cobbled together a few "what-if" scenarios based on the economic recovery plan passed by House Democrats, and the "skinny" bill floated by the Republican's in the penny-pinching caucus, and whatever is still sticking to Trumpland's wall of spaghetti.
Yesterday, Mnuchin went on Fox News Sunday to shitpost IRL, and circlejerk the Republican's so-called "skinny" bill. The bill is said to offer more money to the disastrously mismanaged Paycheck Protection Program, and a $300 boost to federal unemployment benefits through Dec. 27.
BONUS: Politico has a piece this morning about how the coronavirus has exacerbated income inequalities, making the poor poorer and rich richer. While TV economists talk up stock market gains, Politico quotes Claudia Sahm, director of macroeconomic policy at the Washington Center for Equitable Growth, as saying this isn't a "V-shaped" recovery, it's a K-shapped recovery because, "There could be a whole iceberg underneath it that you're going to plow into." Nerds think these growing inequalities and financial instabilities could create more political and social unrest, and drag out economic recovery efforts.

Spy Games
At least 90 people were arrested in Hong Kong for protesting the government's decision to postpone elections. Hong Kong Chief Executive Carrie Lam postponed elections on July 31 over a fear of COVID-19, but foreign policy geeks think Lam was trying to keep pro-China legislators in power.
The Wall Street Journal has a rather blistering piece on how the FBI is cracking down on Chinese researchers whom it believes are trying to rip-off U.S. secrets. In a related story, the Chinese government has decided to stop renewing press credentials for foreign journalists working for U.S. news outlets in China. The New York Times reports journalists have been told by police and state officials their existing press creds are (coincidentally) recognized until Nov. 6, unless the Trump administration boots out people working for China's state-run news outlets in the U.S. first.
The espionage war between the U.S. and China has ramped up over the last few months with tit-for-tat slap fights that have affected the press, education, energy, technology, maritime and territorial rights, international trade, and diplomacy. Writing in Foreign Affairs this weekend, Elbridge Colby and Robert D. Kaplan argue that the U.S. should take a lesson from former President Dwight D. Eisenhower and search for a "middle way" rather than spending the digital surveillance age stumbling drunk and alone into another cold war to fight with a near-peer rival.
This Fuckin' Guy
Wikileaks co-founder Julian Assange appeared in a UK court to fight extradition to the U.S. over charges of espionage. Assange's lawyers maintain that his self-imposed detention in Ecuador's London embassy left him with depression and poor hygiene, and that he is a suicide risk if extradited to the U.S. His lawyers add that Assange is a political prisoner because of Donald Trump's, "effective declaration of war on leakers and journalists," and that Assange is "an obvious symbol of all that Trump condemned."

In February of 2020, Assange's lawyers argued that in 2017, former California Republican Rep. Dana Rohrabacher flew to London to offer Assange a pardon at the request of Donald Trump in exchange for Assange denying Russia's involvement in the 2016 election. During the 2016 election Assange gave tepid praise of Trump and his associates, and was later revealed to be working with the Donald Trump Jr. and the Trump campaign in the release documents stolen from the Democratic National Committee with the intention of damaging Hillary Clinton. Human rights and press freedom groups have gritted their teeth in defense of Assange as the case could create a precedent for prosecuting actual journalists.
One More Thing...
Capitol Police Officer Sgt. Anthony Phelps was able to skirt a more comprehensive investigation into claims of sexual harassment by former Capitol Police officer when now-Chief Steven Sund sent the investigation to the human resources department instead of the Office of Professional Responsibility, Roll Call reports. A new lawsuit claims that in 2017, Phelps, a training supervisor, "belittled" the lone female officer in a K-9 unit, was given a dog that was unlikely to successfully complete the training program, and that only three weeks into the 14 week training program she was told she was unlikely to pass -- a comment that was never stated to male trainees. A lawyer for the former police officer tells Roll Call, "I believe Sund," who was then serving as the assistant chief, "chose HR because he knew they wouldn't do as thorough an investigation."
OK, here's a cute critter video: RED PANDAS!


Follow Dominic on Twitter and Instagram.
The Smoke Eater is mobile friendly, ad-free and relies on your tips and subscriptions. It takes a lot of time and energy to put each issue together, so consider tipping me on Ko-Fi, Venmo, or subscribing to my Patreon.
Questions? Comments? Complaints? Shoot me an email or slide into my DMs!